Diving - Snorkeling
For everybody who don't want to go for diving, but still want to see what's going on down there, we have the right offer. Snorkeling with the family around Phuket. Explore the Phi Phi Islands, see wild monkeys and enjoy the amazing view of the landscape while a picnic on the beach.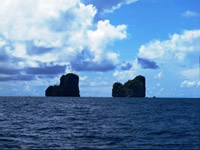 Snorkeling in the crystal clear water of the Andaman Sea, doesn't matter if Phi Phi, Similan or Koh Tachai close to Surin Island. You start around 7 am at your hotel, depends on your destination. With a short bus ride over the Island Phuket to the pier, you already can enjoy the local living and Thai style buildings. After around 45 minutes you arrive on the pier and you are just one hour away from the first snorkeling adventure.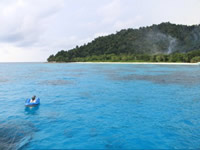 Already on the island, you will jump with the snorkeling equipment in the water to watch the fish and corals. After a while you will continue the trip to the next beautiful bay for a second snorkeling. About noon time you will have lunch on the beach. It depends what trip you booked, even there is a buffet waiting or you will have picnic on a lonely beach.
Just do it. It will be a great adventure for you. You never did snorkeling before? No problem, a privat snorkel guide will explain and show you everything.

For more information about the trips, please send us a E-Mail or directly with the contact form.