Diving - Private Divemaster
You need a lot of air, you have problems with the language or you like to take pictures underwater? But as well you don't want to get disturbed or disturb anybody else? Then you are right here!

We offer you the chance to get your own dive master who knows all the dive places very well. As well he takes care of you the whole time.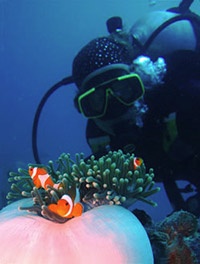 You are already a certified diver, but you feel still a bit unsafe? You have problems to decent because of your ears?

It is quite easy with a private dive master who takes only care of you. No mixing up or taking care of the other people in the group, no ascending with 100 bar in the tank.
And that's how it works:
Just send us an E-Mail or write via the contact form that you or your friends wish to have your private dive master.