Specialties
It doesn't matter if you take CMAS, PADI or SSI, there are several ways to educate yourself in diving. Your knowledge and diving skills can be always improve. With several special courses or adventure dives you can do it. We can offer you all of them.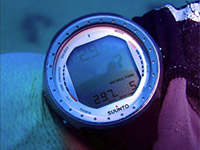 The Deep Dive Specialty course will give you a lot of adrenaline. Reach depths where you never been before and explore the new underwater world. In this course you get an instructor, who shows you the theoretic and practical skills for deep diving. 40 meter will be the maximum depth while recreational diving.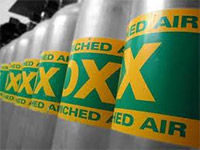 You want to expand your no-decompression time, without doing any decompression stops. Then it's time to switch the gas. Go diving with
Enriched Air (Nitrox)
and you will get more bottom time than with normal air. Learn everything about Nitrogen, Oxygen and bottom time. Find out how to set up and use your diving computer for Nitrox, read the special Nitrox RDP's and find the equivalent to the usual RDP.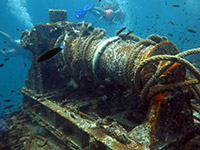 Ship wrecks, sunken cars or airplanes are really nice and popular dive places. But to go there you need the Wreck Specialty. We will teach you, how you have to plan your dives and how you have to dive on and in a wreck, with all possible hazards.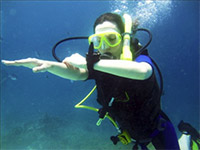 While you have to navigate a group, you have a lot of pressure to find the spot you want to go to. Everybody is counting on you, so don't disappoint them. That's the only thing in your mind. You want to know how to do the Navigation in perfection, so this is the best way to do it. Learn how to navigate a square, triangle, 180 turn or just in one direction in the underwater navigation specialty course.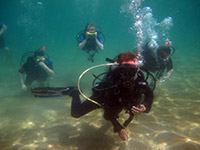 To lead a group is one of the most important skills while diving on the way to be a dive professional. It's your responsibility to show everybody the most beautiful under water spots and also bring them back safely. Check if everything is O.K., the air amount of your buddy. These skills you will learn in the specialty course Group Leader.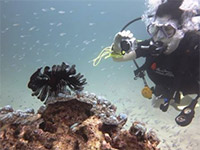 To shoot some photos it's quite easy, but have you ever tried to take some photos under water? Nice colors, beautiful fish and no particles on the picture. In the Underwater Photography Course you will learn how to find some good shots, how is the angle to the sun and important the white balance of your camera. As well how to clean and maintenance the important parts of the underwater housing. Also if you like you get some tricks of using Photoshop or Pinnacle computer program on your images.
More Specialty Courses, where you have the possibility to gain your diving skills and diving knowledge are:

- Boat diving
- Search and Recovery diving
- Drift diving
- Safe and Rescue
- Fish Identification
- Peak Performance Buoyancy
- Ecological Diving
- Equipment Technology
- Night and Limited Visibility Diving
- Shark diving

If you have any questions or you need more information about the specialty courses, please send us an e-mail or use the contact form.