Diving – Day Trip
Your day starts in the morning 7am at your hotel. You will get picked up with a minibus, which brings us down to Chalong pier in the south of Phuket.
The bus ride will be around 1 hour till we get there. On the pier we will go on a big diving boat, which takes us to the dive places. You will be back at your hotel between 4 pm and 8 pm, its depends what kind of trip you are booked.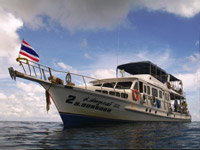 After you arrived on the boat you will get a small breakfast which is coffee and little sandwiches. On the way to the dive place you will get a briefing about the dive place and how everything works in the group and underwater. Hand signals, safety procedure, what you will see underwater and so on. It depends also on the dive place you go which skills you need. We have places for Discover Scuba Divers up to Advanced Divers.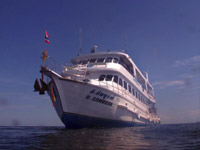 Usually we have lunch between the first and the second dive, it will be served in a buffet style, fish, beef, pork or chicken, as well some vegetarian food if you like. Soft drinks like coke, sprite, or fanta and drinking water is included in the price. Also on the way back you can have some beer which is not incl. in the tour price.