Dive Places – Day Trips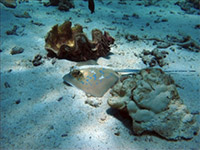 Racha Yai is a good local dive place which is not too far away from Phuket. Around 1.5 hours with the big diving boat. The visibility under water is most of the time between 15 and 20 meters. On the east side of Racha Yai you will find three small bays which are famous for the clear water. Mostly time of the year this area is protected from current and big waves. Also the Bungalow Bay is very pretty to dive. All the reef's are sloping reef's which starts from 1.5 meter till 30 meter plus. As well plenty of fish everywhere. Even if you are lucky, you will spot some Manta Rays in the distance. Racha Yai is perfect for beginners, but also for experienced divers with a wreck in the deeper area. Artificial Reefs which are building of concrete cubes are already grown with corals.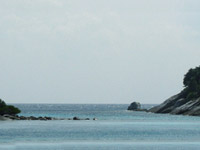 You can reach
Racha Noi
from the Chalong pier in around 2.5 hours with the big boat. The Island is located in the South of Phuket underneath of Koh Racha Yai. Racha Noi is very similar to Racha Yai, not only on the surface, as well underwater. With a lot of sand and hard corals its perfect for every beginner which already been to Racha Yai. The South Plateau (South Tip) is for experienced divers only. The dive place itself starts at 18 meter and slopes down 40 meter plus. The average depth is around 24 meter. Lots of current, sometimes bad visibility is also possible. Manta Rays, sharks and sometimes Wale sharks are seen. Some people might say it's like the Similan Islands.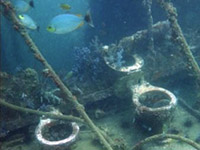 The King Cruiser wreck is a 85 meter long catamaran, was used to be a ferry from Phuket to Phi Phi Island. The boat sunk on the 4th of Mai 1997 after it hit of the Anemone Reef. The deepest part of the wreck is 32 meters; the shallowest is the wheelhouse with 16 meter. It's a beautiful wreck with swim through, massive amount of fish's and beautiful corals.
A real penetration of the wreck is not possible, because it is unstable after the long time being under water. But we do have a lot of swim through. This dive place is for experience divers only!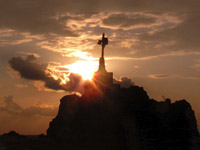 Shark Point
is the most famous dive side on Phuket and belongs to a Marine National Park. The dive place is totally covered in soft corals and a bunch of hard corals. There are so many different kinds of fish, it doesn't matter where you look, every where you find something interesting.
The name itself it got from the resident living leopard sharks. If you are lucky you can find sleeping creatures in the daytime on the sand bottom. As well we do have seahorses and ghost pipe fish, barracudas and cuttlefish.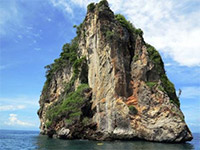 Koh Doc Mai is a little Island which is just sticking out from the water. The dive place is a wall dive, sometimes a drift dive. It always depends on the current. The maximum depth is 26 meter, deeper you just have sand bottom.
The dive side is very popular for the macro underwater world. Lot's of nude branches, seahorses and ghost pipe fish's. A paradise for everybody, who likes to do underwater photography.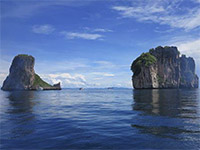 Phi Phi
Islands are one of the most spectacular Islands of Thailand. The breathtaking shape is raising the beat of every diver's heart. Every rock is another "Kodak" moment. That is also the reason why the popular movie "The Beach" with Leonardo Di Caprio was made there. For diving the most popular site are still Koh Bida Nok and Koh Bida Nai. There we have sea horses, nude branch, turtles and sharks.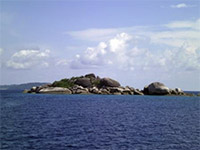 Around 90 kilometer away from Kamala, are the Similan Islands. The Similands are 9 different Islands which are located from South to North. Since 1982 these Islands belong to the Similan Islands National Park. The islands are made of Granit, covered in tropical vegetation. Crab eating monkeys and tropic birds are seen very often.

The beautiful and most lonely beaches are not the only attraction of the islands. The best and most interesting things you will find under water. Canyons, rocks, caves, swim trough, these are the real things you have to see. Diving on Elephant heat, Christmas Tree, Boulder City and Shark Fin Reef are breathtaking dive places. A visibility from 30 m is usually. Manta rays, reef sharks, whale sharks, turtles, frog fish, barracudas…. Whatever you want, you'll probably find it here.