Diving - Safari
Dive safaris to the Similan/Surin Islands and Hin Daeng/Hin Muang in Thailand, but as well the Mergui Archipel in Burma are the highlights of diving from Phuket.
These are still one of the top 10 dive places in the world, everything what keeps the hear trate of an diver on the top. The Safaris are planned to visit from 1 to 10 days, depends on the route and dive sites you choose.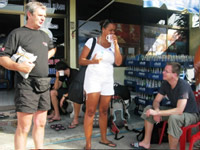 Similan and Surin Island: The pickup time will be around 7am from your hotel. The transfer with the minibus to Tap Lamu, which is up north, takes around 1h 30 min. There you go with the speedboat in between another hour to the big live aboard boats even to the Similans or Koh Bon. The boat itself is a floating hotel which stays the whole high season of shore. You sleep on the boat as well. This kind of trip you can also do as a daytrip, even to Similans or Koh Bon. If you want to visit Koh Tachai or Richelieu Rick you have to plan 3 days 2 nights on the boat.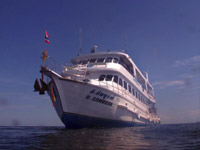 We have also live aboard boats, which are going out in the night time on your first day. Mostly they will start in the south of Phuket in Chalong. Usually they are sailing up to the Similans or down to Hin Daeng/Hin Muang. As well Phi Phi Island is an offer for multiple daytrips. For these trips you have to spend at least 2 days one night for Phi Phi or 3 days 2 nights for Hin Daeng, Hin Muang and Koh Ha (The Rock).