CMAS Diving Courses
Confederation Mondiale des Activites Subaquatiques
The wish to explore the big ocean brought up many methods for the diving. One of them is our latest diving equipment. BCD's, regulator, masks and fins. At first it feels uncomfortable to breath underwater, but if you get used to it, it's easy and totally different to anything else you did before.

After the fear disappeared, you will totally enjoy the underwater world with all the different, sometimes funny creatures. There are so many new things to explore; you will not get enough of it.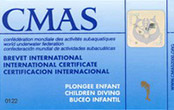 The Junior Program starts for kids between 8 and 10 years. They will learn how to use the ABC equipment (mask, snorkel and fins), as well the dive equipment in confined water in the ocean. They will also get used to the environment on the surface and underwater world. Our very well educated and experienced instructors will take care of your child all the time.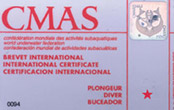 The CMAS 1* Diver (Bronze) course is the start of your diving career and also necessary if you want to continue with the levels. Here you will get used to all the equipment, how to setup and use it safe underwater. As well you get lessons in the theory part, which is also important to understand. With this certification you can join almost every diving trip's around the world. You have to be at least 14 years old and also you need a medical statement from a diving doctor.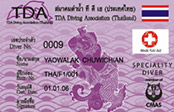 The CMAS 1* Diver need 3 Specialties to continue to the next level, the CMAS 2** Star Diver. There we have:
- Underwater Navigation
- Team Leader
- Medic First Aid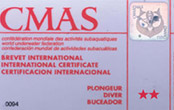 In between 5 days, incl. 5 dives, practical pool and also theory lessons, you will become a CMAS 2** Star Diver (Silver). You get further into the things which happens with your buddy underwater while diving, also how to rescue and safe somebody else. You have to be 16 years old, at least 25 logged dives and a medical statement from a diving doctor, not older than two years. Also you need the specialties after CMAS 1* Star Diver.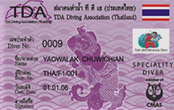 These Specialties you have to get while your CMAS 2** Star to continue to the next level the CMAS 3*** star. There we have:

- Deep Diver
- Rescue Diver
- Night Diver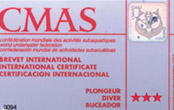 In the
CMAS 3*** Star Diver Course (Gold)
you get lessons in group leading, how to prevent problems and how to react in different situations. This is the first step to be a professional diver in the diving branch. You have to be minimum 18 years old, already be a CMAS 2** Star Diver and 65 logged dives in your logbook. 10 of the dives have to be deeper than 30 meters. As well you need the specialties deep, rescue and night.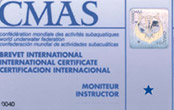 If you want to continue in diving, for example Assistant Instructor or Instructor 1* to 3*** Star, please send us an E-Mail and we will send you all details.
As well we do have a job offering, internship for CMAS 3*** Diver Course, for 2 to 4 people every high season.
---
CMAS Price List
| | | |
| --- | --- | --- |
| Discover Scuba Diving | 4.000 thb | 2 boat dives, 1 day |
| Refresh Course | 4.000 thb | 2 boat dives, 1 day |
| Basic Diver Course | 9.500 thb | 2 boat dives, 2 days |
| CMAS 1 Star Course | 16.500 thb | 5 boat dives, 4 days |
| CMAS 2 Star Course | 17.500 thb | 6 boat dives, 5 days |
| CMAS 3 Star Course | | on request |
| Specialties | | on request |
| Divemaster | | on request |