Scuba Quest Dive Center - Office
Scuba Quest has 2 different offices, one on the Kamala Beach Road and one in the Kamala Beach "Sunprime Hotel", opposite the hotel reception. For guests that stay in the hotel we offer free test dives in the pool.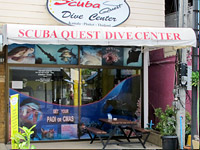 Our Main office on the Kamala Beach Road is usually used for a meeting point in the evening to write in the logbooks or just to relax. Everyone is always welcome there.
High Season: 09.00 am - 9.00 pm
Low season: 10.00 am - 12.00 am and 4.00 pm - 6.00 pm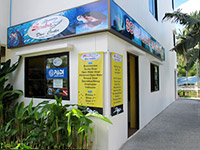 At the Kamala Beach ''Sunprime Hotel" we are open from:
High Season:
10.00 am - 2.00 pm and 4.00 pm - 6 pm
Low season:
10.00 am - 12.00 am und 4.00 pm - 6.00 pm