Dive Places - ½ Day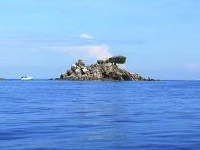 Koh Wao is a small island in front of the Bangtao Beach. From Kamala we need 30 minutes with the longtailboat only. This group of islands has actually 3 islands from west to east, but during the high tide you can only see two islands. On the north side you will find allot of colorful soft corals with many anemone fish. On the south side are more hard corals and big boulders with bigger fish, moray eels and scorpion fish.
This little island is perfect for beginners, but also for advanced divers. Normally we are doing 2 dives in the morning, but also sunset and night dives are possible on request.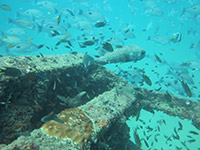 The first
tin dredging ship
in Phuket brought in 1907, is now located in front of Bangtao Beach. The success of this tin dredging ship increased the popularity of using ship in this region of the world. We need 25 minutes to the dive place. The tin dredging ship is not in one big piece anymore, its decay in separate pieces. The depth is 13-16 meter. We can find cobias, scorpion fish, lion fish, big puffer fish and blue spotted stingrays. Night dives are really interesting on this dive place too!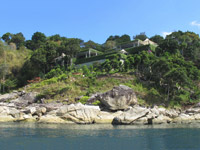 Thai Po shows up as beautiful on the surface as under water. The famous "millionaires mile" is very close to the dive place, that's why you can see a lot of huge villas which belongs to quite famous people from TV and sports world wide. Under water the dive place starts with sand bottom, but If you continue towards west on the edge of the reef, an amazing dive place open its doors. There are massive rock formations, on white sand bottom which is very similar to the famous Similan Islands.
Thai Po is suitable for beginners, refreshers and advanced divers. Maximum depth is 23 m.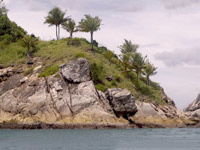 Nakaley
. The dive place starts on a platoo from 2 meters and slopes down to 7 meters. There you will find the edge of the reef itself which continues down to 14 meters in a wall. There are not that many divers around, that's also the reason why we still have a lot of fish and soft corals there. On the north end of the dive place are huge rocks appears, where you can find bigger fish like rays and turtles.