Other Diving Courses
The wish to explore the big ocean brought up many methods for the diving. One of them is our latest diving equipment. BCD's (buoyancy control device), regulator set, masks and fins. At first it feels uncomfortable to breath underwater, but if you get used to it, it's easy and totally different to anything else you did before.

After the fear disappeared, you will totally enjoy the underwater world with all the different, sometimes funny creatures. There are so many new things to explore; you will not get enough of it.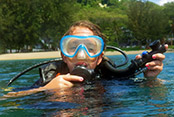 We offer a specific instruction in the pool or in very shallow water for kids in the age of 8 and 9 years. This course is perfect to start with the dive hobby, it's fun and also adventure. Your child will be together with a professional children instructor the whole time during the course. You get lessons in using the equipment and also in doing some skills under water. After you finish the course, you will get a logbook and a certificate. One part of the parents has to be next to the pool, beach or on the boat while the course is running.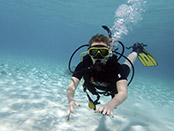 Discover Diving is an introduction in diving, where you will get a professional dive instructor or divemaster. You will learn the most important skills and rules while diving, as well how to handle the dive equipment and communication under water. After the briefing you and your instructor are doing 2 dives in the ocean. You get a certification and a logbook if you like. The maximum depth is 12 meter.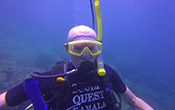 In only 2 day's you are a Scuba Diver. On the first day you will learn the most important rules and skills for diving You get a lot of information about the diving theory and how to set up your equipment properly. 2 dives with a professional PADI instructor follow on the second day. With this certification you are able to go for diving everywhere in the world in company with a Professional. In between one year you are able to finish your Open Water Diver level. You have to be at least 10 years old.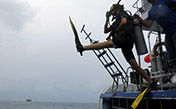 The Open Water Diver Course is the most common course and also necessary if you want to continue your diving career. Here you get taught to know all the diving equipment, as well what's going on in your body while diving, how to react in different situations and environmental things. With this certification you are able to go diving worldwide with anybody with at least the same certification level. The minimum age is 10 years (Junior Open Water Diver). With the age of 15 years you will become automatically the Open Water Diver.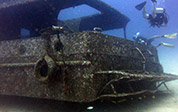 You want to go deeper, explore wrecks and special dive places? In only 2 days, 3 dives your choice and two which you have to do, as well theory lessons you are an Advanced Open Water Diver. In this course you can choose between different kinds of special dives. You have to do Deep diving and Navigation! For the other 3 dives you can choose between several dives like:
- Underwater Naturalist
- Wreck diving
- Underwater Photography
- Drift- or Night diving
In between 2 to 3 days you can get certified as a Rescue Diver. In this course you learn how to safe and rescue other people with any dive or none dive accidents in theory and practical lessons. You have to be already an Advanced Open Water Diver and as well you need an actually medic first aid certificate. If you do not have it, you can do it here as well.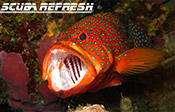 Your last dive is more than 1 year ago or you don't really remember how to do everything? No problem, we can do a Scuba Refresh Course which shows you all the important skills again. You will take of the mask; recover the regulator, doing the fin pivoting for a good buoyancy as examples.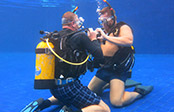 If you want become a professional diver, for example Assistant Instructor (AI) or Open Water Scuba Instructor (OWSI), please send us an e-mail and we will send you all details.
As well we do have a job offering, internship for the Divemaster Course, for 2 to 4 people every high season.
---
Price List
Discover Scuba Diving
4.000 thb
2 boat dives, 1 day
Scuba Diver Course
9.900 thb
2 boat dives, 2 days
Open Water Diver Course
15.500 thb
4 boat dives, 3 days
Refresh Course
4.000 thb
2 boat dives, 1 day
Advanced Open Water Course
13.500 thb
5 boat dives, 2 days on a 1/2 day trip
15.500 thb
5 boat dives, 2 days
(1st Day - 1/2 day trip, 2nd Day - 2nd day on a day trip with 3 dives)
Rescue Course
13.500 thb
4 boat dives, 3 days
MedicFirst Aid
6.000 thb
Specialties
on request
Divemaster
on request