Scuba Quest Dive Center - The Team

Monique is the heart and soul of the dive school. If the day would have 48 hours, then she would still be always reachable. She is fun to be around, but when it comes to diving, she strictly follows the rules, standards and safety precautions.

She is certified CMAS 3***Star Instructor, PADI Master Scuba Diver Instructor (MSDI), and SSI Dive Control Specialist Instructor with about 6500 dives.

Andy is a certified CMAS 2**Star Instructor, CMAS Specialty Instructor and CMAS Children Dive Teacher, as well an SSI Dive Master Instructor. With over 5000 dives and countless courses ranging from the Open Water Diver to the Assistant Instructor, he will lead your courses or dives with plenty of knowledge.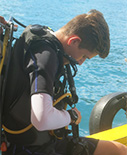 Max, also known as "The Wise One", is soon to be 15 years old. He grew up in Thailand and can speak fluent English and German, but can also speak Thai and Mandarin.
Right now, Max has about 60 dives. He is a certified CMAS 2**Star Dolphin Diver, PADI Junior Open Water Diver and a SSI Advanced Adventurer Diver.