Diving - ½ Day
For the 1/2 daytrips we have a special for diving modified, traditional long tail boat. The dive places are just 30 minutes from Kamala Beach. The day starts at 8.45 am and ends around 2 pm. The trip includes fresh fruits like bananas, watermelon, pineapple and fresh drinking water as well.
We doing 2 dives, but if you like we can do also 3 dives, which we have to know in advance. For sure you will get one of our divemaster or instructors, who will lead your dive and take care of everything, that you feel comfortable in the day.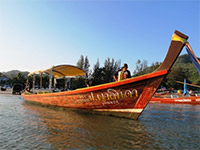 Here you can see our long tail boat, which we use daily in the high season for our 1\2 daytrips. The boat is special prepared with tank holders for diving. We have a roof on the top to protect you from the strong sun of Thailand. The ladder makes it quit easy to come back in the boat. An icebox will make sure that all your drinks and fresh fruits are cold the whole day.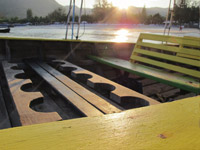 Half daytrips are perfect for people with family or friends which are not diving or snorkeling. Diving in the morning and relaxing on the beach in the afternoon. If you want to dive in the afternoon or maybe a night dive, we can do this as well. The night dives we do usually on the wreck or the little island Koh Wao. Sunset or night dives we have to know at least a day before as well.